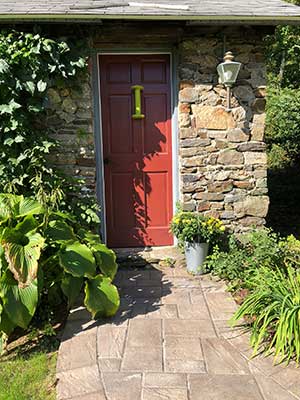 The sewing workroom is this quaint 500 square foot, stone building located on my property in the hills of Northwestern Connecticut. This country setting was originally home to a Czechoslovakian lumberjack and his six children in the early 1900's. He made wood kitchen utensils and buckets which he sold in local towns. It is now a "ladies" machine shop, restored and equipped with many industrial sewing machines, the latest workroom equipment and large gridded tables as well as tons of fabric, trim and hardware sample books from highly reputable suppliers.
I wish that I had known you 10 years ago. I will see how much longer that I will be in this place, but if I do any window treatments I will call you. Also, if anyone wants to speak to a recent reference, I would be happy to volunteer. You are very talented and I appreciate your responsiveness to this project. It looks beautiful.
Visit my Gallery pages for samples of my work.